Cervical Artificial Disc Replacement
Why choose San Jose Neurospine for Minimally Invasive Spine Surgery?
1/2 inch incision
Board Certified Neurosurgeon
More than 2000 successful cases
Same day discharge
Northwestern/UCLA Trained
Minimal post-op pain
Quick Recovery
Over 90 percent success rate
Advanced Technology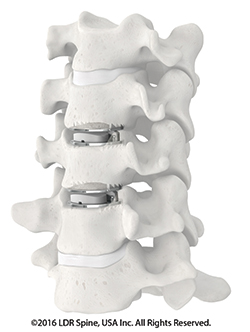 Cervical artificial disc replacement surgery (also known as arthroplasty) involves removing a diseased cervical disc and replacing it with an artificial disc. The discs are the cushions that lie between the vertebrae. They act as shock absorbers and allow your neck to move freely. These discs can breakdown, loose their height and their cushioning effect. They can also become displaced and compress the spinal cord or the nerve roots. This can cause neck pain, upper extremity pain, numbness, weakness or tingling. Disc replacement surgery could be used to treat one or two level disease and there are several implants in the market that are FDA approved.
Advantages over Anterior cervical fusion surgery
Disc replacement surgery is a minimally invasive procedure in which the problematic disc is replaced by an artificial disc that preserves motion at the treated level. This procedure maintains backward and forward bending, side to side bending and turning. This is in contrast to fusion surgery that eliminates motion at the diseased level. The major advantage of the motion preservation is that it decreased the likelihood of breakdown of the discs above and below the treated level. With fusion surgery, there is increased stress above and below the fusion and this could lead to future problematic adjacent segment disease. There are also several recent clinical studies showing superior clinical outcomes with disc arthroplasty compared with anterior cervical fusion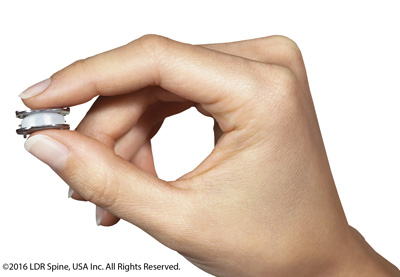 At San Jose Neurospine we understand the significant burden neck pain could have on quality of life. We also understand why a lot of patients are afraid of spine surgery. It is important to understand that over the past decade there have been monumental, game-changing advances in the field of minimally invasive spine surgery. Disc replacement surgery constitutes one of these technological advances. We are highly experienced in performing cervical disc replacement surgery and are widely recognized as a regional center of excellence in this field. Contact us today to see if you are a candidate and to obtain a free MRI review.
Where to Go For Artificial Disc Surgery
Are you a candidate for artificial disc surgery? This can be a complicated assessment based on the type of disc problem you have. Keep in mind that the physician you choose for spine surgery will have great impact on your outcome from spine surgery - especially artificial disc surgery. The more experienced and trained the surgeon is in spine, the more options you have to explore.
---
Cervical Artificial Disc Replacement — Sam's Story
Sam had two herniated discs in his neck, making daily activities painful and difficult. After pursuing non-surgical treatment options and spinal injections, Sam still wasn't pain free. That's when Sam took the next step and contacted San Jose Neurospine for help. Dr. Onibokun at San Jose Neurospine was able to replace the damaged discs with MOBI-C Artificial Discs, avoiding a multi-level spinal fusion. Now Sam is back to a healthy lifestyle, pain free.
Watch Sam's story...
---
Cervical Artificial Disc Replacement — Paul's Story
After waking up with a sore neck, Paul figured he had simply slept on it wrong. He quickly found out that something more serious was occurring when his fingers began going numb. Paul attempted to carry on with everyday life, but the pain and numbness became worse. That is when he decided to research alternatives to spinal fusion, and found San Jose Neurospine. Dr Onibokun was able to replace Paul's discs with the MOBI-C Artificial Disc. After surgery, Paul's pain symptoms were immediately relieved and he is now back to a pain free life!
Watch Paul's story...
---
San Jose Neurospine Treatment Philosophy
We understand the negative impact chronic neck or lower back pain could have on quality of life. We are fully aware that these conditions cause a significant amount of suffering for our patients. We also understand the significant fear and anxiety most patients have about the prospects of having to undergo spinal surgery
We do NOT believe in conventional OPEN spinal surgery techniques because they are too invasive and the recovery is too prolonged
We are STRONG believers in MIS Surgery Techniques and we possess world class expertise in this field
We believe that the results with MIS surgery are far superior to those with open spine surgery
We believe the overwhelming majority of spinal conditions could be treated effectively through tiny incisions using endoscopic techniques
We believe in muscle and soft tissue sparing surgery techniques
We believe that patients recover much faster when MIS surgery techniques are employed as opposed to open surgical techniques
We believe in consistently maintaining an obsession with achieving the very best patient outcomes and our safety record is second to none nationwide.
We believe in preserving spinal motion whenever possible
Our core purpose is to return our patients back to life and activity utilizing highly sophisticated and advanced minimally invasive surgical techniques. The surgery is only the means to the end.
We have changed the lives of thousands of patients using these minimally invasive techniques. Learn more about the patient's experiences by watching their video testimonials.
Call Today to get a No Cost MRI Review
408-377-3331