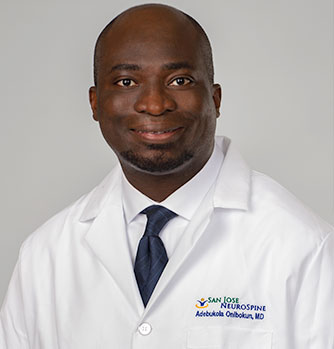 Specialty
Minimally Invasive Spine Surgery
Medical School
Northwestern University Medical School
Residency
Neurosurgery at UCLA Medical Center
Board Certification
American Board of Neurological Surgery
Adebukola Onibokun, MD, FAANS
---
Board Certified Neurosurgeon
---
San Jose Neurospine includes the expertise of Adebukola Onibokun, MD, a Board Certified Neurosurgeon.
Dr. Onibokun (pronounced "Oh-knee-bow-kun") is the Founder and Director of San Jose Neurospine. He is Board Certified by the American Board of Neurological Surgery and is a fellow of the American Association of Neurological Surgeons. Before medical school, he was a Magna Cum Laude graduate of Iowa State University. He received his medical degree from the prestigious, Northwestern University Medical School, graduating with Alpha Omega Alpha honors at the age of 22. He then completed 7 years of Neurosurgery Residency training at UCLA Medical Center, a program that consistently ranks as one of the top five Neurosurgery programs in the country.
During his training at UCLA, Dr. Onibokun worked hand in hand with some of the world's leading visionaries and pioneers in the field of minimally invasive spinal surgery. He collaborated with some of these surgeons in developing and refining several of the endoscopic spine surgery techniques employed worldwide today. As a direct result of this work, Dr. Onibokun co-authored one of the sentinel articles on the technique of minimally invasive pedicle screw fixation. His research also led to the publication of the first ever article defining anatomic considerations for cervical pedicle screw insertion using multiplanar CT measurements. He has authored several other research papers and publications related to spine surgery.
Dr. Onibokun has previously served as Chief of Neurosurgery at Elmhurst Memorial Hospital in the Chicago area, where he established their Minimally Invasive Spine Surgery program. Prior to relocating to California, he was a Health System Clinician at the Northwestern Medicine Regional practice.
Dr. Onibokun specializes in minimally invasive spinal decompressive techniques, motion preserving spinal technologies, endoscopic spinal fusion techniques, robotic computer assisted image guided surgery, complex spinal reconstruction, chiari decompression, transphenoidal surgery and microvascular decompression surgery. He is an active member of several professional societies including the American Association of Neurological Surgeons, Congress of Neurological Surgeons and North American Spine Society.
Over the course of his career he has performed more than 2,000 successful operations. Philosophically, Dr. Onibokun emphasizes conservative treatment options prior to considering spine surgery.
Dr. Onibokun is now on staff at El Camino Hospital (Mountain View and Los Gatos campuses), Good Samaritan Hospital – San Jose, and Sequoia Hospital – Redwood city.
Have Questions?
Contact Us