Do I need spine surgery?
When back or neck pain symptoms strike, it's natural to want instant relief. Some will seek surgery, a procedure or a pill as the solution. But it's important to understand that surgery is not appropriate for some back or neck problems. For example, surgery is never appropriate for a back or neck muscle strain.
Surgery can accomplish two objectives:
It can correct a herniated disc that is pressing upon a nearby nerve root.
It can correct an instability of vertebrae that is causing symptoms.
If the surgeon can identify a disc problem or problem segment from an MRI, that would make you a candidate for spine surgery. There are also some symptoms that require emergency spine surgery to correct or the symptoms can become permanent and lifelong.
Emergency symptoms requiring spine surgery within two days:
Loss of control of the bowel or bladder. This is called cauda equina and relates to a compression of the nerve bundle at the base of the spine. If left untreated, it could cause permanent paralysis of the nerves that control the bowel or bladder, making the symptom permanent and lifelong.
Any traumatic injury to the spine (fall or car accident) that could have fractured a vertebrae. Any trauma to the back needs to be evaluated promptly with at least several X-rays to rule out a fracture to vertebrae in the spine. A fracture could allow vertebrae to shift out of position and damage the spinal cord resulting in permanent paralysis.
Call our office immediately
Symptoms that require a spine specialist evaluation within 3 days, and could potentially require prompt spine surgery:
Numbness or weakness in a hand or foot: When a nerve in the low back is compressed by a herniated disc, it can cause weakness in a foot. This is called "footdrop" and is characterized by a toe that drags on the ground because the front of the foot doesn't raise up while walking. When a nerve in the neck is compressed by a herniated disc, this can cause weakness in a hand. Weakness or numbness are both emergency symptoms that need to be seen and treated by a spine specialist (spine surgeon or spine-specialized physical medicine physician) with 3 days. In some cases, spinal injections may be used to relieve symptoms. In other cases, spine surgery may be needed promptly to relieve the pressure on a nerve root.
Request an Appointment
Other symptoms that may require surgery over time:
Pain that radiates into a leg or arm: This is called "radicular pain" or "radiculopathy" in that the pain radiates into the leg or arm. While you cannot use watchful waiting with the above emergency symptoms, a person can use watchful waiting for a period of time to see in non-surgical treatment options can provide relief. In many cases, radicular pain can be treated successfully with non-surgical treatment options like spinal injections or manual therapy that relieve inflammation around a nerve root. In other cases, like "stenosis" spinal surgery may be needed to open the spinal canal to relieve the compression on the spinal cord and adjacent nerve roots. Stenosis is a narrowing of the opening in the vertebrae for the spinal cord and can related to aging. Those over 50 years of age may notice pain when standing or arching their back. Radicular pain that is not relieved by non-surgical treatment options over a three month time period may need spine surgery. Some research studies, however, have concluded that waiting an excessive amount of time (beyond 3 months) can reduce the likelihood for a successful relief of symptoms from spine surgery. In a sense, it is like a car parked on a garden hose for several months. Even when you eventually move the car, it may have cause a permanent crimp in the garden hose. Spine researchers theorize that compression of a nerve root that lasts several months may cause more permanent damage that isn't relieved by a subsequent surgery. In conclusion, there is a window of time where a person should proceed to spine surgery for radicular pain if non-surgical options fail to provide relief over the first three months.
Vertebral back pain that is limited to the low back: This is called "axial back pain" and can be difficult to treat. While a back spasm is limited to the low back, it is caused by a strain of muscles, tendons and ligaments, none of which relate to spine surgery. However, in some cases, the vertebrae in the low back may cause pain symptoms limited to the low back, without radiating pain or weakness into a leg. A spine surgeon is needed to assess the potential benefit of a spine surgery that might fuse the vertebrae to relieve the pain symptoms.
Request an Appointment
The good news is that about 80% of simple back pain can resolve with non-surgical treatment options like spinal injections and spine-specialized therapy. Even walking can be helpful to increase circulation. However, there are cases where spine surgery is necessary quickly to prevent lifelong paralysis of nerves, and it's crucial to understand which symptoms require immediate evaluation and treatment.
Contact Us
Back to Life Journal

Access our digital copy of the Back to Life Journal, a national resource for information on back and neck pain. Simply provide your email for your copy!
Claim your copy
Free MRI Review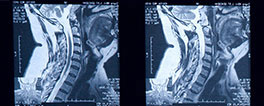 Click below to find out more about this convenient service.
Read More
Home Remedy Book
Have back or neck pain? Learn what causes symptoms and the home remedies that relieve pain. San Jose Neurospine mails out Home Remedy Books to residents throughout the Silicon Valley.
Read More